Weiss Ministries, Inc. of Chesapeake was founded in 2000 as a covering for the theatrical productions, preaching and teaching ministry, and publications opportunities by Juanita Weiss intended to bless the Body of Messiah. Weiss Ministries primary goal is the bridging of gaps between diverse demographics: ethnic groups, socio-economic groups, generational groups, and denominational groups. Weiss Ministries plans to accomplish its goal through the following objectives:
Edification by the preached and taught Word of God
Illumination through print and electronic media
Revelation through the production of dramas and the performing arts
Realization through the support of foreign and local missions intrinsically linked to the vision
Through each of these methods, Weiss Ministries keeps its vision upon Jerusalem by turning the minds, the eyes, and the hearts of the masses toward the City of God, naturally and spiritually.
About Elder David & Minister Juanita Weiss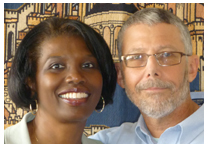 David and Juanita are the Founders and CEO of Weiss Ministries, Inc., a 501(c)3 nonprofit ministry. Weiss Ministries' serves as a bridge between diverse cultures through teaching/preaching, publications, performing arts, and missions.
David received a BA in English and in Psychology from Bucknell University and an M.Ed. from University of Virginia. For twenty-nine years, he has taught English and psychology in Virginia Beach City Public Schools. Raised as an orthodox Jew, David has a powerful message about coming to know his Messiah. For over twenty years, David served under the leadership of Rabbi Dr. Joseph Rosenfarb at Beth Messiah Synagogue of Tidewater. During that time he has served as an ordained elder, a member of the Board of Trustees, a shammash (deacon), a Shabbat School Teacher, a Men's Group leader, and as a keynote speaker.
Juanita Weiss received a BA in English Education from Norfolk State University; an MA in journalism from Regent University and an Associate in Biblical Studies from Bible Teachers Institute. She is a retired English, journalism, and visual language teacher, having completed 30 years of exemplary service in the Virginia Beach City Public Schools. For ten years she provided servant leadership as Pastoral Liaison and Director of Ministries to fifteen ministries at Tidewater Bibleway Temple. Having served six years as president of Tidewater Bible College, she is a consummate Bible teacher, conference speaker, and workshop leader. Author and playwright, she published the booklet Mary and Martha: Jesus' Worship and Praise Team, two books Journey Beyond Imagination and God STILL Uses Vessels; two devotionals Walking Daily with the Father and That I Might Know Him; and wrote and produced a published play, Satan's Assignment: Cancelled. An ordained minister with Evangelical Christian Alliance, Min. Weiss served in ministry with her husband at Beth Messiah Synagogue under the leadership of Rabbi Joseph Rosenfarb. David and Juanita are blessed with one son, Jonathan Tyler.
Min. Weiss is divinely infused with the eager desire to seek the heart of God, building bridges among all denominations that worship the one true God, and passionately revealing the cultural-linguistic context of the Hebrew Scriptures. As she tugs at God's heart, feel Him tugging at yours.
In the spring of 2014, David and Juanita will launch Kingdom Life Messianic Congregation of Chesapeake.